If you are involved with the digital marketing space, you have almost certainly heard one of the most important proverbs of internet business: "The Money is in the List." But how much time and money do you need to invest in nurturing that list to see meaningful results?
The good news here is that AWeber pricing starts at 500 contacts — making it the perfect platform for anyone looking to grow their list, attract the right subscribers and even get into the world of email marketing.
AWeber pricing is based on your total number of subscribers. They offer a free plan, with which you can send up to 3,000 emails a month to 500 subscribers.
This is good news for freelancers, bloggers, and small business users, as most tools are accessible on this free account. Users can create immersive newsletters and discounts to loyal, consenting customers on your mailing list and improve their chances of conversions.
There are even options for viewing and analyzing the data you collect along the way, helping you to decide which of your autoresponders are the most useful.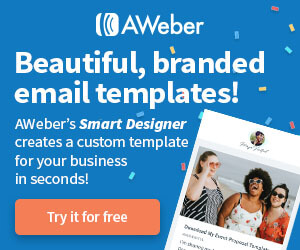 Even their free plan has excellent features, like email marketing, responsive landing pages builders, e-commerce, web push notifications, subscriber, and message analytics, etc.
AWeber offers complete-featured digital marketing tools to help you manage your connections with crucial leads through carefully segmented campaigns and attractive messages.
But although AWeber offers just two plans – Free and Pro. Still, it's not as easy to figure out which option delivers the value your business deserves.
So, how much does a software solution like AWeber cost?
That's what we're here to find out.
Read on to learn all about AWeber pricing options, and discover which package best suits your needs.
You can also read our full Aweber review here.
How Much Does AWeber Cost?
AWeber offers three base pricing plans for customers with up to 500 subscribers for Pro accounts.
These plans provide the same services, but you will receive specific discounts for ordering the service for a more extended period.
Aweber Cost: $19.99 per month
Aweber Quarterly Cost: $49.00 every 3 months
Billed Annually: $193.80 per year
AWeber Free: Email marketing for free. No credit card required.
Which AWeber Plan Should You Choose?
AWeber pricing starts at zero dollars per month for 500 subscribers on the "Free" plan. As I said earlier, it's an excellent option for anyone looking to get into the world of email marketing.
It makes it easy to pick the right one straight away without checking a long table to compare different offers with varying features.
AWeber's Free plan provides access to more than 600 mobile-responsive email templates. Making it easy to deliver readable email messages regardless of the device your customers are viewed on.
But don't get too excited. I found several of the available templates looked quite out of date. The drag-and-drop email builder wasn't very intuitive, either, making it challenging to create professional-looking emails.
That said, AWeber's Free plan does have some nice perks. If you want to save cash on thousands of pre-selected stock images, you'll like the platform's huge image gallery.
The free plan allows users to use automated email series to add dynamic content into their automated campaigns like subscriber personal information, location, and randomized content.
If you want a feature-packed email marketing tool, you can also use it to create e-commerce landing pages to sell products and services. In that case, you'll appreciate AWeber's Free plan even more.
You can create unlimited landing pages, RSS to email, set up web push notifications, autoresponders, and emails – if you can navigate AWeber's clunky interface.
Furthermore, the AWeber free trial only offers simple subscribers, segmentation, and message insights. To access more advanced analytics that can help you get more out of your data, fine-tune segmentation, or create and manage workflows, you'll need to sign up for a paid plan.
Sign up & start growing your mail list today! The tools available in the AWeber email marketing free plan make up 90% of your work.
If you have an existing list of subscribers or want access to more advanced email marketing features such as segmentation, tracking, split testing, or detailed insights and analytics. In that case, the AWeber Pro plan might be right for you!
The Pro plan includes everything the company has to offer, including all tools, features, unlimited subscribers, and an unlimited email. It also comes with behavioural automation to understand the users' journey and automate emails based on their actions.
Unlike the AWeber Free trial plan, it lets you altogether remove AWeber branding from your emails — a must for giving your business a more professional look.
In this plan, you get an A/B testing option to build an email list for the signup form. You can test 2 different formats and monitor the results.
It also features cart abandonment and purchase tagging. You can boost your sales in record time. Plus, you can keep track of your sales to compare the effectiveness of your email marketing campaigns.
The Pro plan offers advanced message analytics, accounts analytics, and webpage and email sales tracking for reporting and analytics. Overall, these reports help you drive email campaigns, reach a larger audience and quickly grow your email list.
AWeber Free: Easy email marketing
How much does Aweber charge for more than 25,000 subscribers?
AWeber Pro plan pricing jumps significantly when you reach more than 25,000 subscribers. Once you reach this threshold, AWeber pricing increases by $8 per month for every 1000 subscribers confirmed.
Although AWeber's pricing structure may seem bizarre, the cost for more extensive lists is comparable to alternative services. For instance, if you compare Mailchimp vs. AWeber pricing, you'll see that AWeber is less expensive for 50,000 subscribers, while Mailchimp is somewhat less for 100,000 subscribers.
Available discounts:
Nonprofit organizations with a valid 501(c)(3) document get a 25% discount.
AWeber also offers a 20% discount to students with Edu or .ac email
It is an actual forever free plan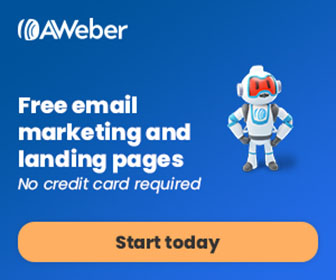 AWeber Pricing: Key Differences Between Plans
All AWeber pricing comes with a few essential basics, such as:
Custom subscriber segments
In-depth reporting
Split testing
Website Tracking
Click & Open Automation
Sales Tracking
Behavioral automation
Autoresponder functionality
Email database importing and management
Custom Branding
You can see the full pricing here.
Aweber Pricing Conclusion
The price you'll pay for Aweber depends on the size of your mailing list and the kind of features you want to access. Aweber pricing feature makes it easy to scale things as you grow.
This means the free plan should be enough for small startups and individuals looking for intro-level parts without spending a dime. Apart from adding additional users and making use of the abandoned cart support and Email Split testing feature, I don't see a vast difference between the options.
However, online shops and eCommerce will benefit from the advanced tracking and the abandoned cart feature in the Pro plan. If you see a lot of bounces on your checkout page, it might be worth focusing your efforts there. However, you'll be spending quite a bit more on your monthly plan.
Still, I'm pleased to see that Aweber has added a freemium plan: complete with email marketing, autoresponders, and landing pages for anyone looking to get started quickly and creating their email marketing newsletters.
I have to admit, It's hard to imagine any competing email marketing tool that provides an 'all-in-one' package. Therefore, this makes AWeber an incredible match for new small business owners who lack the funds for several solutions. Its 'Free' plan is very generous too.
I've been unbelievably impressed by AWeber automation, landing pages, and data capture forms functionality — it's feature-rich and excellent value for what it is.
Simply tie your Wealthy Affiliate Website with AWeber and you have the perfect partnership!
If you would like to learn more about Affiliate Marketing and how you can start for FREE, you might want to have a look at a company called Wealthy Affiliate.
I have been doing this for sometime now, and from all the platforms I have looked at, the FREE version of Wealthy Affiliate is definitely worth jumping on board with.
Did you find this article useful? Feel free to share your thoughts. We would be happy to hear from you!
Stay tuned for more Work from Home Business ideas.
Any/all links on this site may be affiliate links, and if you make a purchase through one of them, I will earn a small commission at no extra cost to you. Read the full affiliate disclosure here.
Mark
CEO and Founder of The Retired Affiliates